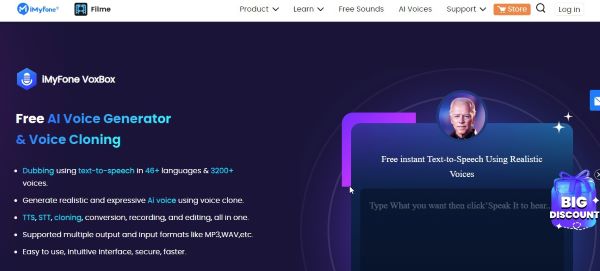 Dubbing using text-to-speech in 46+ languages & 3200+ voices.
VoxBox AI is an AI-powered voice generation and voice cloning tool designed for a variety of applications, including text-to-speech, voiceovers, and content creation. Here is some information about VoxBox AI:
AI Voice Generation: VoxBox AI utilizes artificial intelligence to generate realistic and expressive AI voices. It offers a wide range of voices and accents, making it a versatile tool for voice content creation.
Text-to-Speech Functionality: VoxBox AI allows users to convert text into speech in over 46 languages. This feature is valuable for creating audio content, audiobooks, accessibility solutions, and more.
Voice Cloning: One of VoxBox AI's standout features is its voice cloning capability. It can create voiceovers that closely resemble human voices, making it ideal for content creators and voice actors.
Multi-Language Support: VoxBox AI supports a vast array of languages, making it accessible to users around the world. This multilingual capability enhances its versatility for global content creation.
Availability: VoxBox AI is available on various platforms, including Windows and Android. It offers both free and premium versions, allowing users to choose the features that suit their needs.