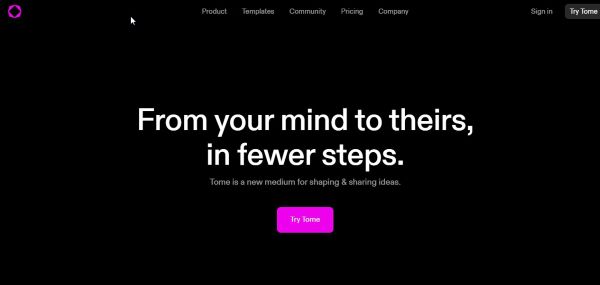 Generate a one-pager, a presentation, a mood board, and more,
Tome AI is an innovative platform that leverages artificial intelligence to facilitate the creation of visually stunning presentations and narratives. It serves as a powerful tool for individuals and professionals looking to streamline the process of generating engaging content. Tome AI enables users to shape and share their ideas effectively, with the assistance of AI-powered features.
One of the key highlights of Tome AI is its AI assistant, which helps users find the best way to articulate their thoughts and ideas. It aids in structuring content for presentations and narratives, making it easier to convey messages without losing the essence of the information.
Tome AI offers various templates and storytelling formats that users can unlock to enhance their work. These templates are designed to make content creation more efficient and visually appealing, allowing users to create presentations, slideshows, and more with ease.
The platform has received attention for its ability to create presentations in various formats, including PowerPoint, and for its integration with video, interactivity, and live data. It has become a productivity tool for many, simplifying the process of producing professional-looking presentations.