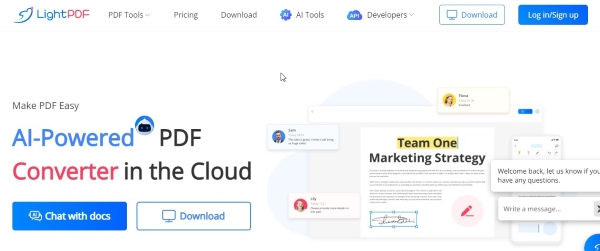 offers smart AI-powered features for editing, conversion, and document management, making it an essential tool for enhancing PDF workflows
Having used the "Light PDF AI Tool," I've been impressed by its intuitive interface and robust functionality. Its key features include advanced text recognition for converting scanned documents into editable text, seamless merging and splitting of PDFs, efficient compression to reduce file size while maintaining quality, and secure encryption for protecting sensitive information. The tool's AI-powered image enhancement ensures that images within PDFs appear crisp and clear.
One standout aspect is its collaborative features, allowing multiple users to annotate and comment on PDFs in real-time. The integration of optical character recognition (OCR) technology significantly expedites the process of digitizing physical documents. Overall, the tool's performance is commendable, providing quick and accurate results.
Advanced OCR for editable text extraction
PDF merging, splitting, and compression
AI-based image enhancement
Real-time collaborative annotations
Secure encryption for data protection