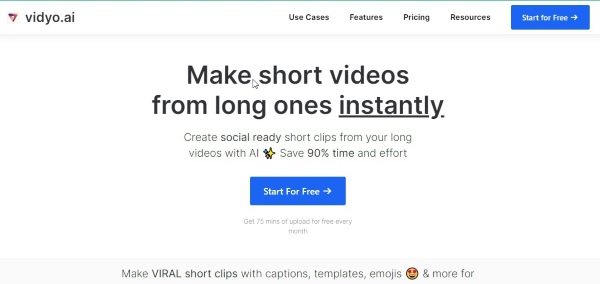 It offers real-time object recognition, scene detection, and sentiment analysis, enabling users to extract valuable insights from videos effortlessly.
The Vidyo AI Tool stands out as an impressive solution for video analysis. Notably, its real-time object recognition feature accurately identifies and labels objects within videos, greatly aiding content understanding.
The tool's scene detection capability effortlessly pinpoints scene transitions, facilitating video navigation and editing.
Its sentiment analysis function provides accurate emotion assessment, holding substantial potential for gauging audience reactions.
Tool boasts an intuitive interface and user-friendly controls, ensuring smooth integration into existing workflows and compatibility with various platforms and software.
Its customization options enable tailored insights to meet specific requirements, enhancing its practicality.
It adeptly handles large video files, delivering prompt results without compromising precision.
The tool's ability to process videos in real-time while offering insightful analysis significantly expedites content review processes.
key features of the Vidyo AI Tool in brief:
Real-time Object Recognition
Scene Detection
Sentiment Analysis
Customizable Parameters
User-friendly Interface
Compatibility with Various Platforms
Large Video File Handling
Tailored Insights
Enhanced Content Understanding
Streamlined Video Editing
Free Plan
75 minutes of video upload monthly
720p rendering
Standard Intros & Outros
Directly publish to TikTok
Starter Plan: $ 15 /month
50 minutes of video upload monthly
1080p HD rendering
CutMagic
Brand Template Builder
Direct publishing to TikTok
Custom Intros, Outros & Fonts
Pro Plan – $ 29.99 / per month
300 video upload minutes
1080p video rendering
CutMagic
Brand Template Builder
Custom Intros, Outros & Fonts
Directly publish to TikTok, YouTube, Instagram, Facebok, LinkedIn and Twitter
All other benefits of FREE