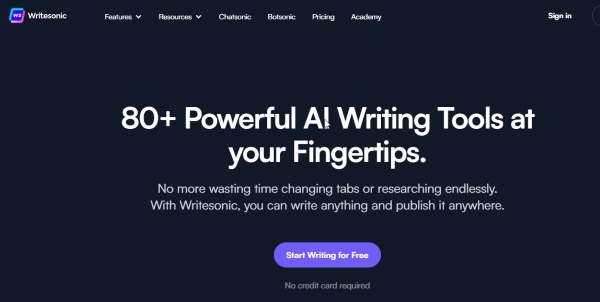 Generate high-quality, SEO-friendly, original content for your blogs, advertisements, emails, & website at a speed ten times faster, it is free from plagiarism.
Writesonic stands as a cutting-edge AI writing and image creation platform, driven by a profound mission to grant individuals across the globe the ability to craft diverse content with remarkable efficiency, achieving speeds tenfold faster than conventional methods.
The platform caters to written content and offers a comprehensive set of tools that have been intricately crafted to simplify every stage of content creation, from ideation and enhancement to the presentation of articles, blog posts, ads, landing pages, e-commerce product descriptions, social media posts, and a diverse range of content styles, all of which are optimized for search engines.
The suite of AI-powered writing functions operates through a user-friendly procedure:
1. Users input their desired prompts, be it topics or paragraphs, into the designated text boxes.
2. The language of preference and the desired quantity of generated outputs are chosen.
3. With a simple command, the generation process is initiated.
These AI-driven writing capabilities have been intricately crafted to necessitate minimal involvement from the user's end while yielding contextually pertinent content. However, it is recommended that for optimal utilization of this platform, users provide explicit, focused, and comprehensive details regarding their content requirements.
Blog Ideas, Intro, outline, ai writer & blog writer, story generator
Product Description, Feature, Ads Headline, Facebook ads, google ads,
Seo meta tag, short linkedin post, youtube outline, idea
Quora answer, content shortner, cold email, personal bio, company bio