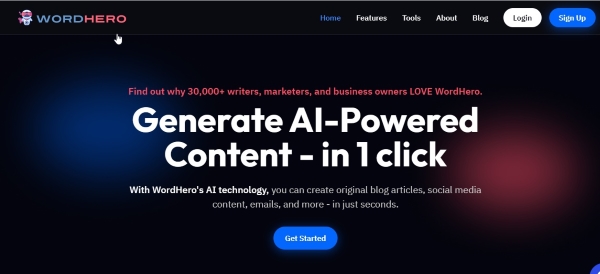 You can create original blog articles, social media content, emails, and more
For writers, the perpetual challenge of crafting engaging and captivating content finds a solution in WordHero AI Writer. This versatile tool offers a suite of robust features designed to conquer these challenges, facilitating the rapid and effortless creation of top-tier content.
Features:
Varied Content Types: WordHero opens the door to diverse content creation, including:
Blog Headlines: Generating attention-grabbing headlines becomes seamless. The Blog Headlines Generator crafts captivating options with a mere topic input, simplifying the process of selecting an enticing headline.
Blog Intros: The Blog Intros Generator provides a remedy for crafting captivating openings, instantly captivating readers from the outset.
Blog Outlines: Structuring content becomes efficient with the Blog Outlines Generator. A topic input yields a comprehensive outline, streamlining the writing process.
Blog Paragraphs: Writing fluid, cohesive paragraphs is simplified by the Blog Paragraphs Generator. Well-crafted paragraphs can be chosen, customized, and integrated.
Amazon Product Descriptions: Enhancing product descriptions on Amazon is achieved effortlessly. The Amazon Product Descriptions Generator crafts optimized, compelling descriptions to elevate product visibility.
Brand Name: Naming a brand is simplified by the Brand Name Generator. It presents a plethora of suggestions tailored to brand identity.
Email Subject Lines: Increasing email open rates becomes feasible with the Email Subject Lines Generator. Customizable subject lines enhance engagement.
Facebook Ads: Crafting eye-catching Facebook ads is expedited by the Facebook Ads Generator. Relevant ad copy resonates with the audience.
Fictional Story Ideas: Generating gripping story concepts is effortlessly achieved by the Fictional Story Ideas Generator, fostering creativity.
Food Recipes: The Food Recipes Generator assists food bloggers and chefs in creating delectable, easy-to-follow recipes, catering to a hungry audience.
Google Ads: Crafting compelling Google Ads for conversions is made easier by the Google Ads Generator. Attention-grabbing headlines and persuasive copy result in impactful ads.
Personal LinkedIn Bio: Crafting a standout LinkedIn profile becomes accessible. The Personal LinkedIn Bio Generator formulates a compelling bio showcasing expertise.
Poems: Aspiring poets find inspiration in the Poems Generator, generating evocative verses brimming with emotions.
Press Release: PR professionals and business owners can create impactful press releases with the Press Release Generator, sparking media interest.
Product Benefits: Highlighting product advantages becomes seamless with the Product Benefits Generator, fostering sales.
Quora Answers: Establishing expertise and driving traffic through informative Quora answers is expedited by the Quora Answers Generator.
Quotable Quotes: Crafting impactful, memorable quotes that inspire is achieved with the Quotable Quotes Generator.
SEO Descriptions: Writing SEO-friendly descriptions infused with target keywords is simplified by the SEO Descriptions Generator.
Social Media Bio: The Social Media Bio Generator crafts captivating bios that reflect personality and brand identity.
Social Media Post Ideas: Generating fresh social media post ideas tailored to niche and audience is simplified by the Social Media Post Ideas Generator.
Song Lyrics: Crafting emotional and storytelling lyrics is elevated by the Song Lyrics Generator.
Startup Elevator Pitch: Crafting an efficient and compelling startup pitch is facilitated by the Startup Elevator Pitch Generator.
Video Descriptions: Enhancing video SEO through enticing video descriptions is expedited by the Video Descriptions Generator.
WordHero AI Writer emerges as a tool that empowers writers with a multitude of features tailored to diverse content needs. By bridging the gap between creativity and efficiency, WordHero transforms the content creation landscape, catering to writers seeking seamless productivity and excellence.