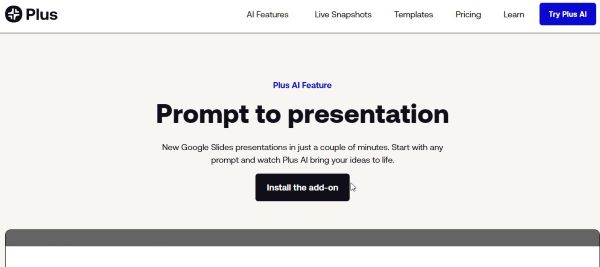 Create, edit, and design slides in seconds using Plus AI
Plus AI is a powerful AI-driven presentation tool designed to streamline and enhance the process of creating, editing, and designing presentations. It is primarily integrated with Google Slides and offers various features to make professional presentations more efficiently. Plus AI utilizes generative AI, allowing users to quickly generate slide layouts, content, and design suggestions based on their input.
This tool is available as an add-on for Google Docs and Slides, making it easy to incorporate AI-driven content generation seamlessly into your workflow. Users can start from scratch or modify existing presentations, and Plus AI assists in creating outlines, drafting content, and suggesting improvements to slides. Plus AI's integration with Google Workspace Marketplace has garnered positive reviews for its effectiveness in simplifying presentation creation.
Furthermore, Plus AI is available for free with the option to generate three presentations at no cost, making it accessible to a wide range of users. It serves as a valuable resource for those looking to save time and effort in the presentation creation process by harnessing the power of artificial intelligence.