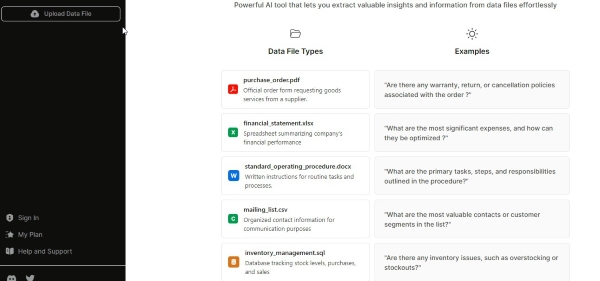 An advanced AI solution that effortlessly extracts valuable insights and information from data files with great efficacy.
AI tool that has revolutionized the way we engage with various document formats such as PDFs, Word, CSV, Excel, and SQL Databases. Leveraging the prowess of ChatGPT, ChatwithData offers a dynamic and interactive chat interface for conversing with documents using natural language, courtesy of OpenAI.
No login required. It's as simple as uploading your desired file and initiating a conversation. This innovative tool caters to a multitude of file types, including Word documents, Excel spreadsheets, and PDFs, making it versatile for a wide range of uses like legal contracts, research papers, and office files.
FREE Plan
  120 pages
/file
  10 MB
/file
  3 Files
/day
  50 questions
/day